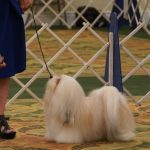 HAVANESE
Distinctive features of the Havanese include a curled-over tail and a gorgeous silky coat, which comes in a variety of colors. Some owners enjoy cording the coat, in the manner of a Puli, and others clip it short to reduce grooming time. Happily, Havenese are just as cute no matter what hairdo you give them.
Their small but sturdy bodies, adaptable nature, and social skills make Havanese an ideal city dog, but they are content to be anywhere that they can command the attention of admirers young and old alike. Havanese, smart and trainable extroverts with the comic instincts of a born clown, are natural trick dogs. Havanese are also excellent watchdogs and take the job seriously, but will usually keep the barking to a minimum.
Havanese make wonderful household members. Their sturdy little body make them fun for children to play with.  Their cuddly nature makes them love to be with their families.  They do well in Obedience, Rally, Agility.. or any dog sport you my want to engage. Or just sit in the recliner with one on your lap.  You will love the Havanese.